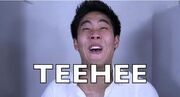 The sound that ends in every nigahiga video~
hey!I am very happy of write the message,maybe to ask you,sinon,  how are you?
I make a dream for you,  I want,you take the chance for the last movie and I hope you begin a star system.

ok big kiss you are a nice boy l'ecu. Je ne sais pas si tu parles français mais je voulais te souhaiter bonne chance et beaucoup de courage pour l'année 2017 et beaucoup de succès. l'ecu bisou......
Ad blocker interference detected!
Wikia is a free-to-use site that makes money from advertising. We have a modified experience for viewers using ad blockers

Wikia is not accessible if you've made further modifications. Remove the custom ad blocker rule(s) and the page will load as expected.